Michelangelo took four years to paint the Sistine Chapel and two years to complete the sculpture of David. Masterpieces take time, which is a luxury most dentists aren't typically afforded. Creating art within the real-world constraints of a dentist's schedule is a daunting task—but tools exist that can help professionals of varying skill levels create highly aesthetic restorations consistently and efficiently.
"I don't want to be recognized as an artist, because I want my work to be reproducible," says restorative dentist and lecturer Dr. Rafael Beolchi. "If you don't have any method or parameters, then you're wandering around in the dark. You're trying and trying and trying… but blindly."
The Uveneer template system is the dentistry equivalent of tracing paper. It guides clinicians through the "dark" toward consistent, predictable, proportionate direct composite veneers, mock-ups, temporaries, and more. The Uveneer Extra template system supplements the Uveneer templates family, giving clinicians the ability to provide a more natural contoured anatomy to their composite restorations.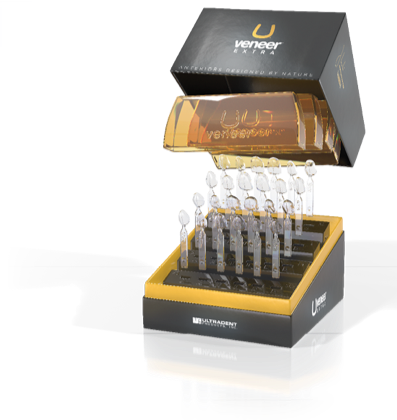 The Tried and True Method Behind the Art of Veneers
"I can practice the 'art' but I don't want to rely on that," Dr. Beolchi says. "That's why I like creating methods and parameters, so I can guard myself; because it's not every day I wake up feeling like a Leonardo Da Vinci or a Michelangelo."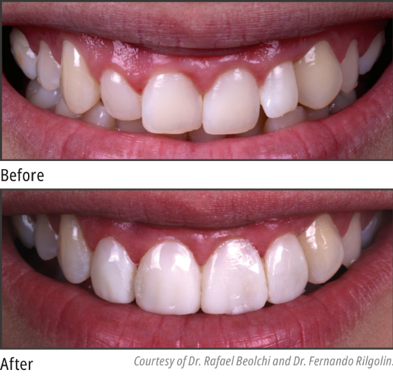 Dr. Beolchi sees these parameters in some of history's most iconic art. "I remember the first time I went to see Michelangelo's famous sculpture of David in Florence. There's two of them, there's a replica in the city square and the original is in the Accademia Gallery. The original is mind blowing, you can see his method. There's a lot of art there, but there's way more method than just art."
Consistently Creating Quality
Patients count on clinicians to produce predictable work. Online reviews and word of mouth are the kings of dental industry marketing. Choosing a dentist based on reviews or recommendations means the patient has certain expectations of quality toward the dentist's work.
The Uveneer template system takes the guesswork out of this consistency, and the Uveneer Extra templates complement the original system with additional tertiary anatomy details while providing four new upper anterior designs: Extra Large, Large, Medium, and Square.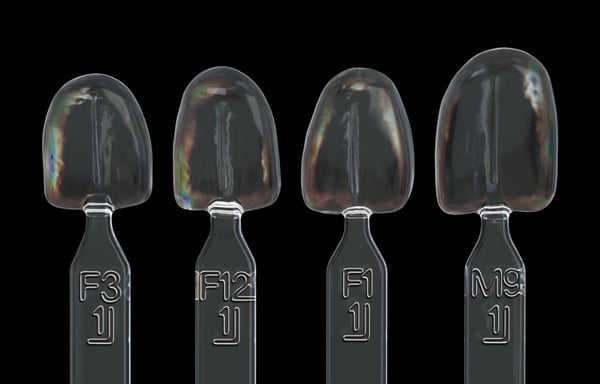 "I don't want my patients to rely on my artistic [abilities] because what happens if they fail me?" says Beolchi. "As in, if it's a day I'm not feeling good or I've received bad news, I don't want to rely on myself as an artist."
Having consistent, high quality work walking out of your office is the first step to securing high quality reviews. With the rise of social media, it's also imperative to remember that clinicians aren't just creating veneers for a patient's real world life. Their smile is also important to their digital life. Not only that, a smiling Instagram post showcasing new veneers can have exponential return for a practice. Sometimes all it takes is just that one post to unlock an entire new audience of potential patients—and that new audience will be expecting the dentist to recreate the quality they saw in the post.
Beauty Through Predictability
Some people are born artists, some are natural scientists. Some are neither and have to work tirelessly to develop skills on both sides of the brain. "I wasn't born a dentist. When I was born I didn't even know how to tie my shoes, but now I do," Beolchi chuckles. "Some people might need more effort in order to accomplish something. By having method and by training, we get there. And by getting there, we feel secure enough to develop those artistic feelings."
The Uveneer and Uveneer Extra template systems allow clinicians to create consistent, schedule-friendly, natural-looking veneers—and they can turn you into the Michelangelo of composite restorations.