From Fortune Magazine, September 10, 2021 © 2021 Fortune Media IP Limited. Used under License. Fortune, Fortune Media (USA) Corporation and its affiliates are not affiliated with, and do not endorse products or services of, Ultradent.
Workplace environment and culture are so often touted in job postings, recruiter messages, and 'about us' pages—but they can often be shallow houses built of cards, ready to topple with the slightest breeze of inquisition into their deeper meaning.
Recognized as one of Fortune Magazine's Best Large Workplaces in Manufacturing and Production for 2021, Ultradent's claims to a caring work environment and engaging culture have been carefully curated since the company was formed in 1978. "This recognition is joyous for the whole Ultradent community," says Ultradent Founder and CEO Emeritus, Dr. Dan Fischer. "I'm so proud of our team members and the inspirational accomplishments they're able to achieve together."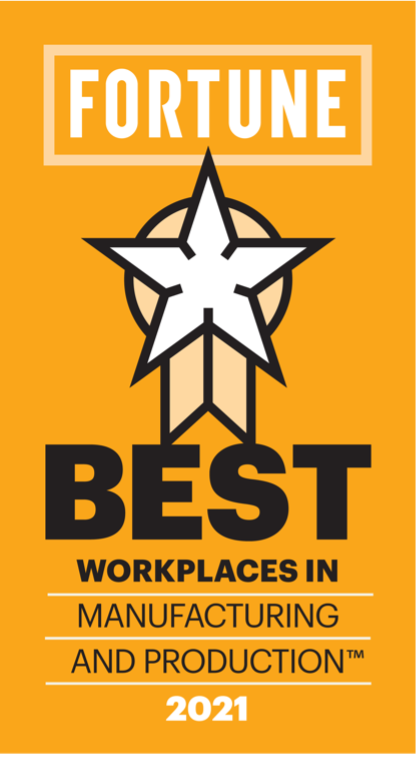 Walking through the sprawling halls of Ultradent's Salt Lake City area headquarters, you will eventually come across a long, curved hallway adorned with dozens upon dozens of smiling photos of longtime employees. Some recognized for 10 years of dedication, others for 20. New employees may wonder what keeps all of them around so long—could it simply be a paycheck and a few perks that would spur the kind commitment showcased in this hallway?
It won't take them long to figure out what it is: abundant care for employees combined with widespread trust in our mission of improving oral health globally. Ultradent colleagues take interest in each other in ways that are unique from the common workplace, reflected in Fortune's top-10 recognition as a premier manufacturer to work for.
"Culture is rooted to the core of this company, that's evident from the first day you start here," says Ultradent President and CEO Dirk Jeffs. "Our core values are as prominent in our actions as they are in our words, and that's not always common."
Those core values of care, integrity, quality, innovation, and hard work are found in numerous locations around Ultradent HQ and are used to guide Ultradent's action plans and decision-making processes. "More than four decades ago when I first started Ultradent in our home, it was my family, my children helping me," Fischer says. "As we grew, we brought in more family members, then friends. Eventually, we had to start hiring from outside our immediate circle, and we wanted to ensure the same family environment remained throughout our various expansions."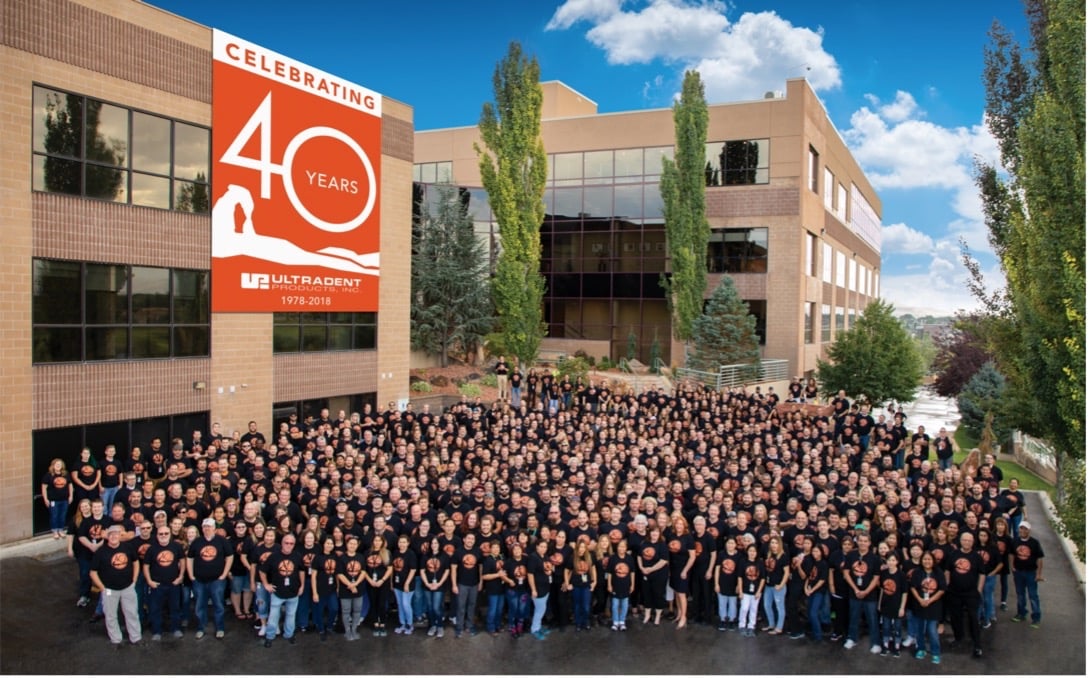 Ultradent employees gathered at HQ to celebrate the company's 40th anniversary.
"By adhering to these core values, we've been able to create a consistent culture despite growing to more than 1,600 global employees with offices on 5 continents. It's really remarkable, and it's a credit to the amazing people we've been lucky enough to call colleagues over the past four-plus decades," Fischer adds.
Ultradent invests in a progressive Human Resources team whose purpose is to constantly find the ideal balance between human experience and profitable outcomes. "Not every company can find the balance for culture and profitability," says Ultradent VP of Human Resources David Alsop. "That is one of the unique and extraordinary elements of working for this company. We invest in the development of leaders and employees who partner to find maximum success here, as well as at home. We do everything we can to support the financial, physical, and mental wellness of our people. As an example, we're now able to offer profit bonuses for team members worldwide as we achieve profit goals. The profit bonus is just one example of how we invest in our people as they invest in our shared company success. Our benefits and development programs go above and beyond to ensure the best quality of life for everyone here at Ultradent."
Recognition as a Fortune Magazine Best Workplace in Manufacturing and Technology doesn't come easy—the culture and environment acknowledged by Fortune have been meticulously crafted over more than 40 years. Dr. Fischer often says "Companies are not made of concrete, glass, and steel, they're made of people serving people."