Ultradent Products is delighted to present the new Halo™ system. The easy-to-use sectional matrix system allows the creation of consistent, beautiful, and anatomically contoured composite restorations in less time. It offers all necessary components, such as nitinol rings, stainless steel matrix bands, and plastic wedges. The high-quality components are suitable for dealing with most of the clinical challenges associated with posterior restorations and were also designed to work together perfectly.
Creating consistently tight contacts, Halo meets the expectations of users and patients regarding the longevity of the restorations, by creating extremely anatomically accurate interproximal contacts. The outstanding force of its nitinol rings and the active wedging provided by the rigid plastic wedges provides a better tooth separation. Thus, single tooth or back-to-back restorations can be easily placed.
The unique beak design of the Halo rings offers an improved tridimensional adaptation, saving precious time and effort for occlusal and proximal adjustments plus finishing. The band fully adapts to the preparation from the gingival margin to the marginal ridge and helps in maintaining its shape even in case of large preparations. The handling is easy in any region of the mouth, as the rings are narrow and stackable. Made from particularly elastic nitinol alloy, the material maintains its force during the treatments and reduces any form of cyclic fatigue. The clean and smooth plastic surface provides for a more hygienic look and feel, eliminating composite adhesion. Halo rings are re-usable, autoclavable and will last over 1.000 uses.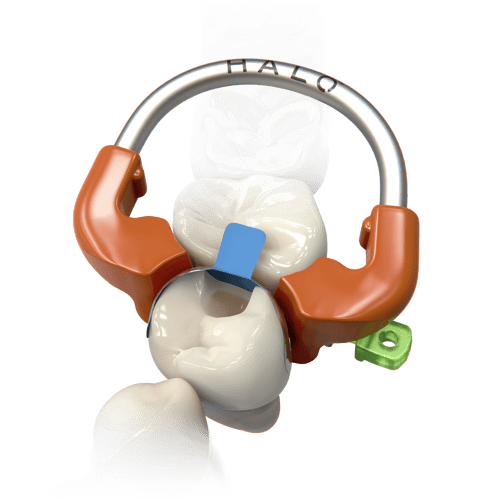 The Halo matrix bands display an improved minimalistic design of the marginal ridge. They are anatomically shaped, supporting the anatomy of the bespoke treatment area thus saving time for occlusal adjustments. The matrix bands easily adapt and create even tighter contact points. They are available in two different grades of stiffness each with the same thickness. The original bands are annealed, dead-soft and can be burnished. The firm bands are ideal for tight interproximal spaces and need no burnishing.
The best of both worlds is offered by the Halo Wedges. They guarantee for a suitable and gentle anatomical adaptation, yet they exert a firm pressure for an active wedging. At the same time the treatment effect is less traumatic to the papillae. Thanks to their hollow design, the placement and removal of the wedges becomes easy and convenient. In case multiple wedges are needed, they can be stacked accordingly. Users benefit from the different colours, as they help them identifying the correct wedge.
Last but not least, organizing the Halo system is made easy with the unique carousel dispenser, which features a great way of arranging and storing all components safely, visibly, and hygienically.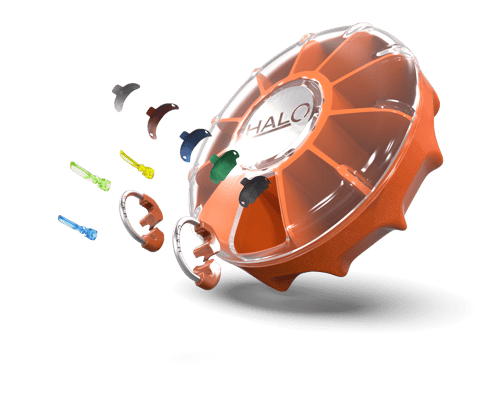 Further information: https://www.ultradent.eu/halo-sectional-matrix-system